FACTORY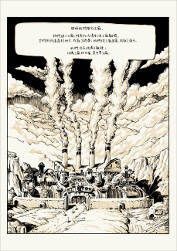 Have you already bought a barbie toy for your children or in your childhood ?
Do you know that before "Made in China" these thing was "Made in Taiwan" ?
In 90s, a lots of Taiwanese factories moved to China for the cheeper workers, The factories left, but the workers stayed. This story continue in our days.
Behind the "made in Taiwan", there were not only the economical policy and the international capital, but also a few millions of labor who made the product that you bought.
Yu-chi's mother was one of them, this is a story about her, but also about the other labor of her times...
This work is specially inspired from the experience of author's mother. But it also mix the story from her different colleague.
Yu-Chi's mother worked in a doll factory during almost 20 years, just few months before her retirement, the factory announced that they were going to transfer the factory to the mainland China. All their basic employers loos their job, fortunately she still got her severance pay. But she didn't get enough pension that she should have, so she continued to work in several food factories to keep the basic life for her family. In those factories, some of them threw out all the food expired only one day ; some of them asked the worker to take out the mold of long-time expired food and repacked it to sell. She began to work form 14 yeas old, and retired at 61 year
Follow this project