Slowork Press - Jimmeh Aitch
Exhibition of Jimmeh at Clermont-Ferrand
2014-12-01

Thanks for all these people who bought this special version for the exhibition, and the other who give Jimmeh so much help and support. Please looking forward for the complete version of Halo-Halo Manila in 2015 !

If you want to get the news of this publishing, please inscribe our Newsletter.


Halo-Halo Manila - The dignity on the street -
2014-10-23

This special version is printed for the event 15trh Rendez-vous carnet du voyage at Clermont-Ferrand on November which Jimmeh is going to join. And we are very happy to get the news that his book is selected for the INTERNATIONAL SKETCHBOOK PRIZE!!

The whole book is screen-printed by hand, limited in 64 copies and only sale on this event. The cover is double colours on a fabric texture paper, with an image of Jimmeh who is eating Halo-Halo ; inside pages are printed with a very beautiful deep blue-purple ; the package is printed in xmas red on a handmade Dai ethnie paper, sewn by singer machine. If you can pass by Clermont-Ferrand on 15-17 Nov 2014, you can\\\'t miss it!


Rendez-vous carnet de voyage
2014-09-29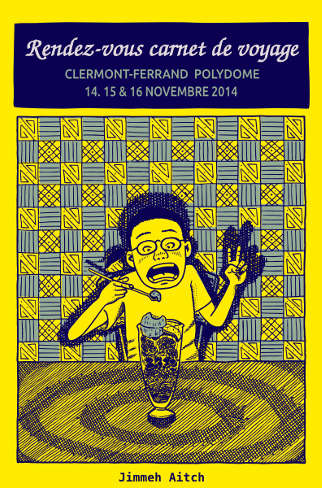 Invited by Redez-vous carnet de voyage, author Jimmeh Aitch is going to show his graphic works about Manila in Clerment-Ferrand (France) at this November.

We are gonna screen-print a special preview version of "Halo-Halo Manila" for this event. If you will be in France, don't hesitate to come!




Trash Advanture
2013-03-19
Dignity on the street
2013-09-01


To all the reader who know JiMMy already, today we would like to present the new artist name of author : Jimmeh Aitch,and his future documentary comic 【Halo-Halo Manila】。

Halo-Halo, which is in the title of the book, is a local food based by ice-cream and a lots of other ingrediens. In Halo-Halo Manila, Jimmeh, as a story teller,guides readers to immerse inside of several personal anecdotes and sometimes be suprised by the Manila everyday life.

Here we present you four final drawing of the second chapter calls "Dignity on the street ", begin from the different living environment of different social class, than a friend of Jimmeh Aitch who lives on the road, and finish at a "big affaire" of his neighborhood. This chapter shows a real Manila street which we can't see on our way of travel or in a history book of Philippines.


DIGNITY ON THE STREET
2013-08-05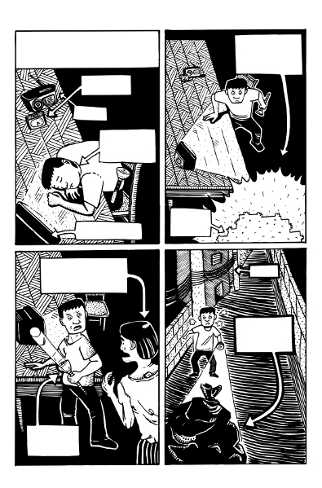 Professor Jimmeh Aitch got his baby and finished his second short documentary comic "DIGNITY ON THE STREET" in his summer vacation, double Congratulations!! Félicitations! Pagbati!

Here is the favorate page from Slowork editor in this story, please click to see the whole page.


Story-board from Jimmeh
2013-03-12

We are running the second short documentary comic with Jimmeh, and here are some story-board of the first two stories about Philippines.


Mandarin editing & print test
2013-03-01

1.Vectorize the scan file of Jimmeh's hand-writing mandarine text.
2.Start to putting the mandarin character in the dialogue frame.
3.Screen-print several one to test if the characters are clear and if the screen can keep using long time.
4.The result of computer editing.
5.The result of the screen print test, quite clear!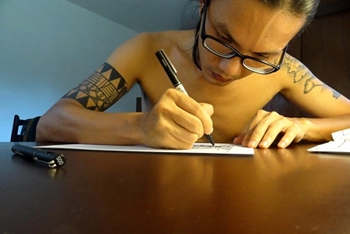 As a professor in the university, Jimmeh often has to draw his comic in the night. This time he use the most simple tool - white paper and the black pen - to create some rich shadow and all kind of ambiance effect.

The computer and all kind of drawing tools' knowledges are not so necessary for the comic, the essencial are a good story, a good story teller and a good patient.


The beauty of screen-print
2012-09-18

Screen print can present a thicker ink and a stunning color (you can see the detail in the last two photos). With the first photo, you can see the different of the black and white between a normal printed comic and a screen-printed comic.

To print the hand-writing chinese characters small and clear in screen-print is a challenge, the test is readabal, but we'll try to improve it more in the future!


Print test 1- paper choosing
2012-06-12

Slowork received the first drawing of Jimmeh, which present his and his wife's families. We made a first screen, all the detail is wonderful. We can print when it is dry.

We make the print test with more than 10 different papers, JiMMy's drawing is very fine, if the paper is not smooth enought or it absorb too much ink, couldn't present the detail of this kind of drawing very well.