Slowork Press - FRONTLINE ZA
Frontline Z.A. on UDN Taiwan
2016-01-10
Collection folder
2016-01-01

Free handprinted collection folder for before 2016/1/20.

Black satin paper + white & black bright ink + red matte ink + red elastic.

Order link

The printing will be finished and send around the beginning of February.


FRONTLINE Z.A.offset version now on sale
2015-12-01

The English version of our comic anthology Frontline Z.A. is coming out ! This title has combined five social issues about Taiwan, created by five Taiwanese authors.

This version is an offset-print on the newspaper with a beautiful Pantone color U222.

Please check this page for all the information and order directly on our on-line shop!


Special edition of CHEN Che
2015-11-20

Here are some images about the special silkscreen version of 4/28 AM 4:00> by CHEN Che.

100% Hand print with the silkscreen, limited in 30 copies, with English and French translation.

They will be in Paris for the event SoBD, and author will be there to sign for you ! Don't miss it!

More informations : sobd2014.com


Slowork x SoBD Paris
2015-11-10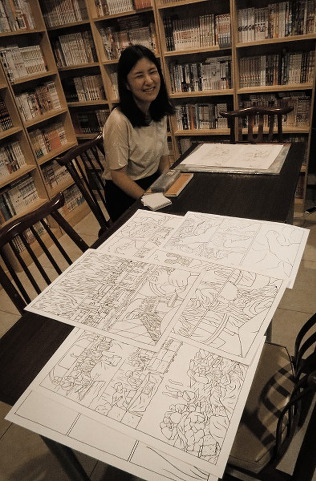 Author CHEN Che, who participate the comic anthology Frontline Z.A., is invited for SoBD in Paris. SoBD organize an exhibition and some conferences about Taiwan this year. Che will present the new generation of Taiwanese comic art, with her big-size original drawing, her self-publishing work, and her work published at Slowork.

You can also find all the published work of Slowork at this event.

Date : 4th 5th 6th December 2015 entry free
Website : http://sobd2014.com/
Place : la Halle des Blancs Manteaux, Paris Ive



Interview of FRONTLINE Z.A.
2015-09-05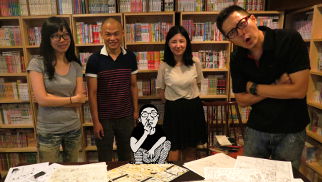 These interviews are in Mandarin, but you can see some images about each authors!

CHEN Che

HUANG Li-Pei

YANG Yu-Chi

CANDY BIRD

Jimmeh Aitch


Dedication event of FRONTLINE Z.A.
2015-09-01

The dedication event of FRONTLINE Z.A. in famous independent Comic shop MANGASICK at Taipei.

Left1 : YANG Yu-Chi
Left2 : HUANG Li-Pei & CHEN Che
Left3 : The original drawing of CHEN Che

Right1 : HUANG Li-Pei
Right2 : Candy Bird
Right3 : Jimmeh Aitch's drawing

This book is now only available in Mandarin, please looking forward for the English version which gonna be published very soon.


【FRONTLINE Z.A.】- Bookbinding
2015-08-07
【FRONTLINE Z.A.】- On Print
2015-08-01

In this book, each comic has it's own colours, so we have to prepare total more than 10 colours. And each artist has their own styles and own paper, so we must pass a lot of time to making print test.

The print work of mandarin version start from march until now, which is really a hard work, we hope the reader will really enjoy it !



【FRONTLINE Z.A.】- Papers
2015-03-10

We want to choose different paper to present the character of each author and their stories. It's chaos in the story of CHEN Che, different memories and time mix together, so we try to use the half-transparency tracing paper ; the drawing and the characters in the work of Li-Pei look so fragile, so we choose a hand-made, very thin paper, which is full of fibre ; in the RCA story, drawing by Yu-Chi, those workers suffered a lot, but they give us a very warm feeling, we finally try to use the Munkedal paper, which is very light and could present a very natural and soft colourr ; the work of Candy bBird and Jimmeh Aitch have a lot of flat colourr, so we chose the ivory paper to have a brilliant ink effect.



New project in progress【FRONTLINE Z.A.】
2015-02-10

【FRONTLINE Z.A.】is a anthology of graphic documentaries. All the story is about the social movement in Taiwan. We work for this project from may 2014, and finally make sure the list of authors at the beginning of 2015. Here you can check the profiles of Jimmeh Aitch, YANG Yu-Chi, CHEN Che, HUANG Li-Pei, Candy Bird.
Please looking forward for this project!